The Rocky Mountain Jackrabbit Ski Club, RMJSC, is a family-orientated, volunteer-run, Jackrabbit program designed to teach children aged 4 and up the joys of cross-country skiing. The cross country ski club is based in Calgary and was formed in 1987. We follow Cross-Country Canada's Jackrabbit ski program. Weekly cross country ski sessions take place on Sunday afternoons from 12:00 – 2:00 p.m., January to March. The locations vary weekly but most are within the Kananaskis, Canmore and sometimes Banff areas. The basic principals for the program are:
Have fun
Learn to cross-country ski
Introduce the importance of winter fitness
Enjoy the mountains
Spend time with like minded people
Children are divided into groups respective of their skiing ability and age. Each weekly session is planned and run by qualified, volunteer leaders. For the youngest group, Bunnies, a parent is required to ski with their child during the each session. If your child is older, you may be asked to assist on an occasional basis.
RMJSC participates in a few special events each year. Some of the events may include:
Biathlon
Loppetts
Ski-in weekend
Goat Creek Trail
and many more.
Parent involvement is essential for our group's success! Parents are encouraged to seek volunteer positions that they excel at or are ready to challenge themselves with. Some of the volunteer positions include:
Coaches
Assistant coaches
Executive positions
Coordinator of one our various social functions
and many other fun ways to get involved!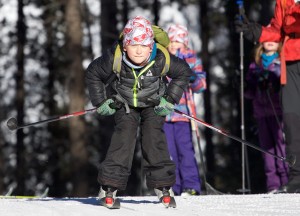 Are you and your family ready to ski? If your answer is YES, then we would love for you to join Rocky Mountain Jackrabbits Ski Club! If you have any further questions, feel free to contact me.
Chris F.
President